4 Types of Mexican Tacos You Need to Know About
When you think about Mexican cuisine, you think about fresh herbs, braised meats, vibrant colors and oodles of flavour. But whether you think about the hearty moles of southern Mexico, or the classic beans of the north, one image comes to everyone's mind when you think about Mexican food – that of the humble taco.
One of the most basic elements of Mexican cuisine is the famous corn tortilla. Its incredible versatility means that it is used in several forms to prepare countless dishes, each vastly different from the other. Most popularly, we see it in the form of burritos, quesadillas, and tacos, made famous by large fast-food chains across the world.
But one visit to a smaller more authentic food restaurant (like our friends at Wahaca and Taqueria) will tell you so much more about the cuisine and the importance of food in Mexican culture – the taco is much more than food that is eaten on the streets or at home. The taco is a part of the daily life of Mexicans. It can be found in parties and celebrations or even during a hangover and is a low-cost safe bet at any time of the day.
Every region in Mexico has its own unique type of taco prepared based on the available local ingredients and preferred flavour profiles; some simple and unique, others loaded and bursting with flavour but each faithfully representing a different part of the country. The taco is not simple but unique.
Read on to know more about 4 unique tacos from Mexico and what they're made of.
Let's taco about tacos!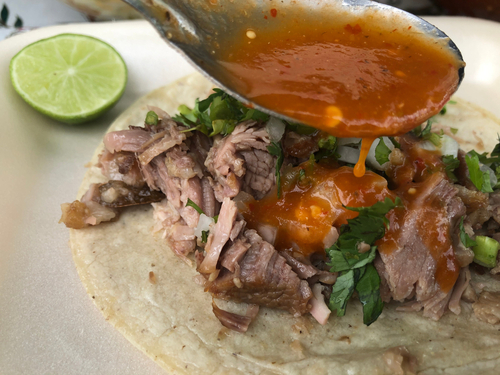 Taco de suadero
One of the most characteristic tacos of Mexico's capital is suadero.
Perfect for a quick meal during lunch break, a family dinner or a night out with friends, suadero, more than a dish, is part of the daily life and anecdotes of chilangos (demonym for residents of Mexico City).
Just one bite on this taco and you will get an instant greasy and flavored taste which will make you feel like a true Mexican. Specially if you have it with a spicy salsa!
Suadero consists of a specific part that is close to the meat and fat between the ribs and the skin of the cow. It is cooked slowly and immersed in oil.
A taco de suadero is not complete without coriander, onion, two tortillas and a spicy sauce that, alongside the flavour of the beef's fat, make a very memorable culinary experience.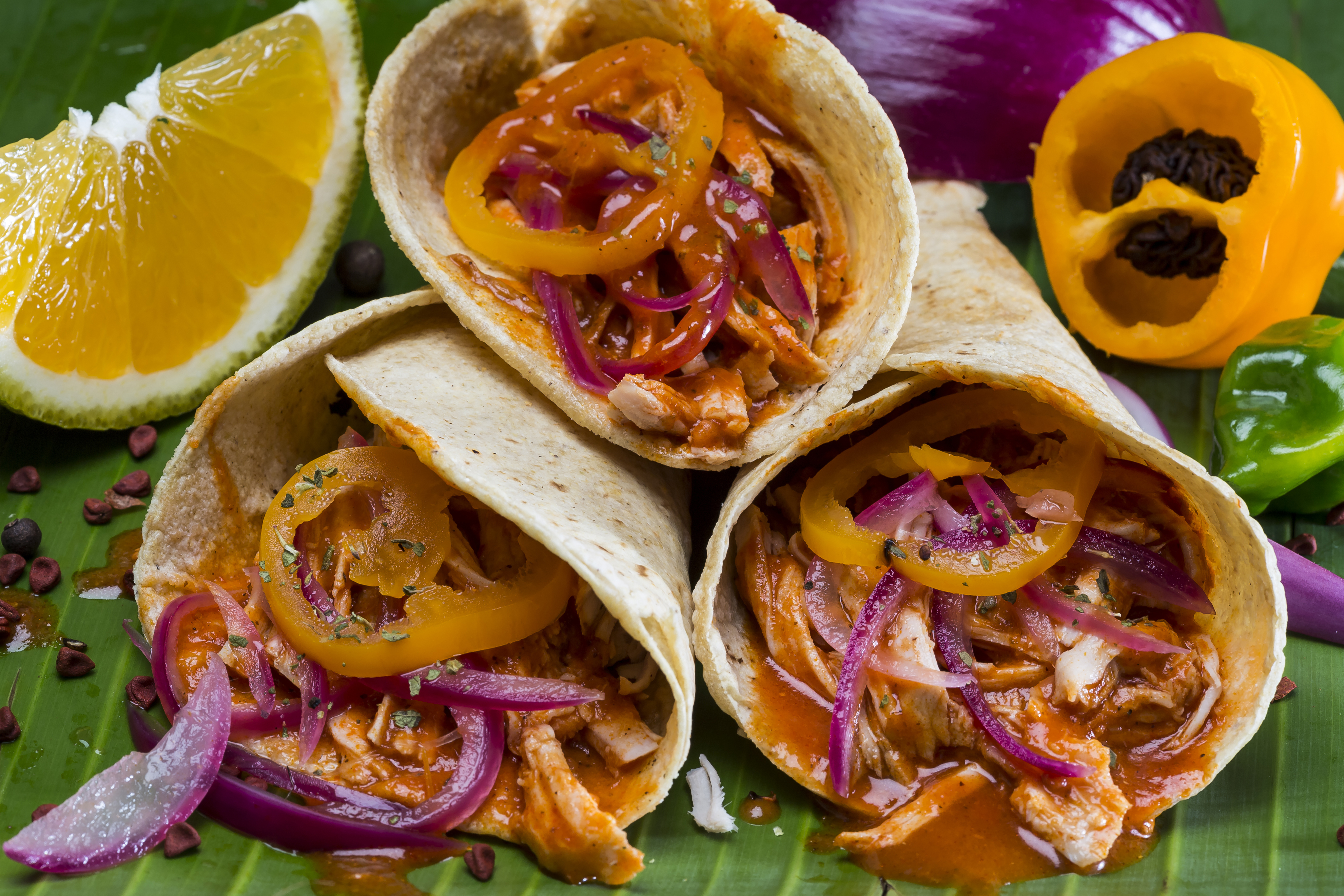 Taco de cochinita
All the way from the Yucatan peninsula, comes the taco de cochinita pibil. A spectacular dish as the meat is not the only ingredient that stands out. The combination of several flavours is important to feel that you are enjoying an authentic Yucatecan taco.
The cochinita pibil is a benchmark of the Yucatecan culture. The Mayan were the first ones in the Yucatan peninsula trying this dish and having it during their Hanal Pixan festivity (their dead of the dead celebration). Later on, the Spanish culture brought something extra, the pork.
The taco de cochinita is served with red onion mixed with bitter orange alongside a homemade habanero sauce. The important element in the preparation of cochinita pibil is annatto. This seed is the reason why the meat obtains a red hue and a bittersweet flavor.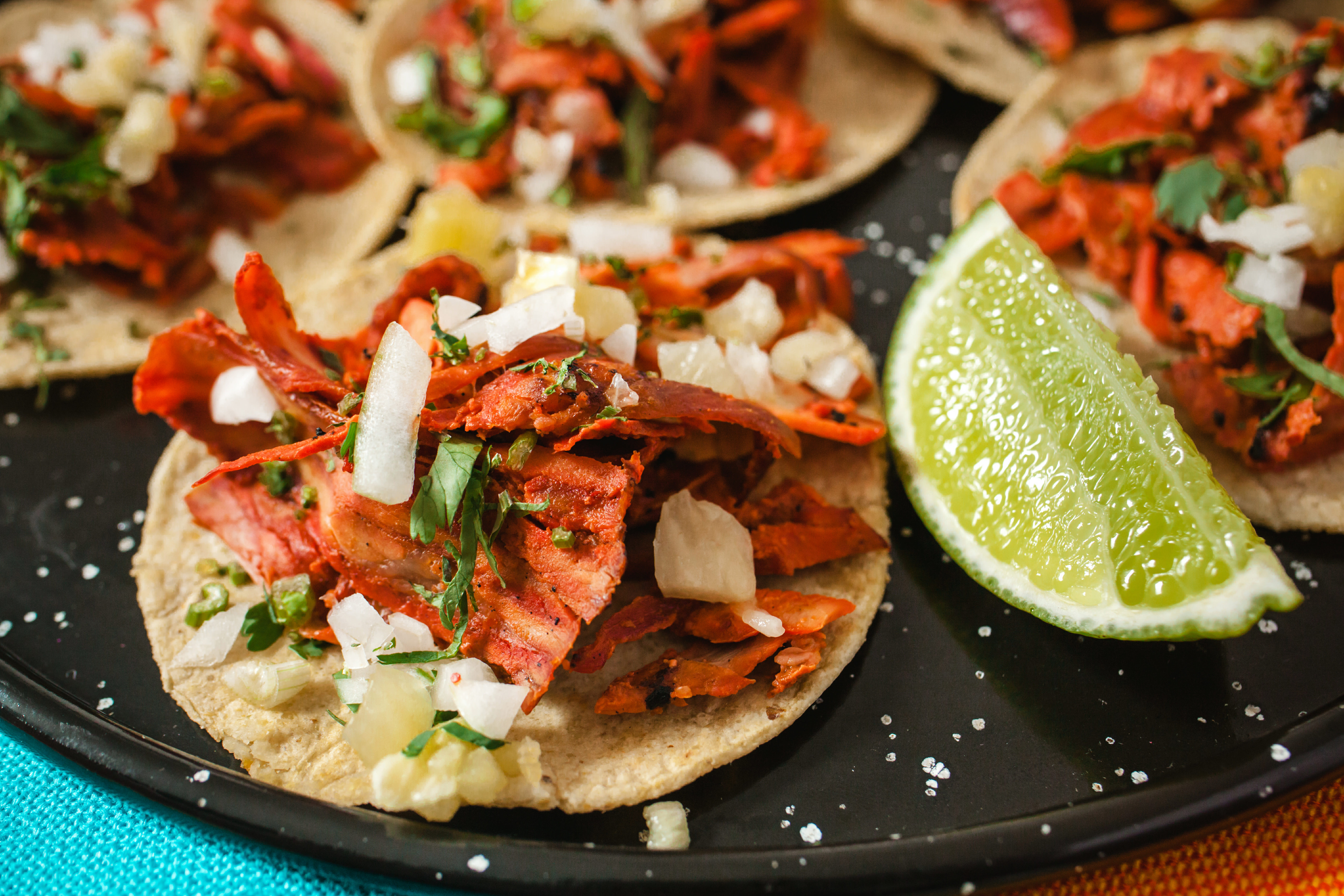 Taco de pastor
Perhaps one of the most famous Mexican tacos. All the way from the Mexican capital comes the Taco al Pastor which is served in a very interesting way.
A taquero that serves a taco de pastor must be skillful enough in order to be able to cut the top, thinly, and elegantly drop it into the tortilla in an almost artistic manner.
The taco de pastor has Lebanese, Turkish and Greek influences. The meat is marinated with chipotle in adobo and left to rest so that the flavor penetrates correctly when cooked. This mixture can be prepared in different ways and chili peppers that not every taquero (the person serving the taco) is willing to disclose, in order to keep their recipe a secret.
The pork meat is cooked over medium heat in a spinning top (known in Mexico as trompo de pastor) with a slice of pineapple to add another flavour into the mix.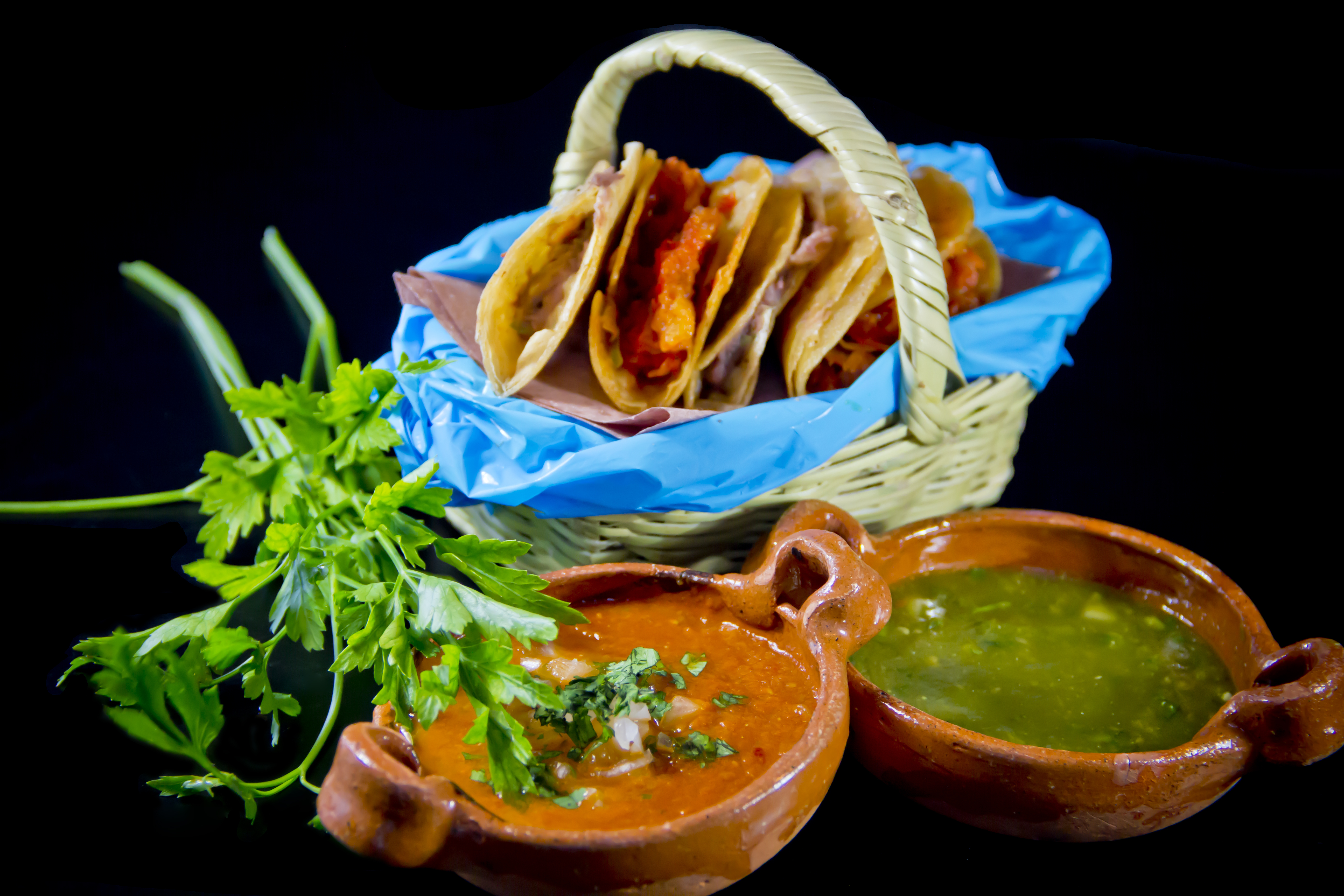 Taco de canasta
The taco de canasta (Spanish for basket) stands out as one of the most important in Mexico. In addition to its content, its preparation and, as its name says, the basket that carries it.
The taco de canasta has a characteristic adobo fat-like flavour and is packed in a basket with kraft paper and plastic to preserve the heat throughout the day. This basket is attached to a bicycle ridden by a taquero that travels through different streets in Mexico and patiently waits for customers to approach.
It is a safe bet for anyone in a hurry or simply with a huge craving of tacos de canasta. This is the taco that comes to you, he will find you!
The three main fillings of the taco de canasta are beans, potatoes with chorizo and chicharrón (fried pork belly). Nevertheless, the most important factor, as with almost all tacos, is the sauce. A raw and thick sauce is the perfect companion for this amazing street taco.

Mexican food is so tasty than even by reading about it we have a huge crave on it. But it is not only tortilla and spices put together, it is an important part to understand the Mexican culture. And four tacos are not enough!
Soon we will talk to you about more types of tacos and famous dishes that make this cuisine and culture so unique!