Place maize in a large bowl and soak in plenty of water overnight. Drain and add to a large pan with the garlic and 3-4 litres of water. Bring to the boil then lower the heat, partially cover and simmer for 2-2.5 hours, or until the kernels are soft and have opened up. Top up the water level as needed so that the kernels are free floating. Slow simmering will produce a better flavour.*
In another large pan add the meat and just cover with water. Add 1 tbsp of salt and bring to the boil skimming excess froth from the top as you go along. Add onion, bay leaves and peppercorns to the pan, partially cover and simmer for about 2 hours, until the meat is tender. Turn off and allow the meat to cool in the broth.
Pull the stems off the dried chillies, split down the middle and shake out the seeds. Heat a dry frying pan over a medium high heat, and press down the chillies using a spatula, until they smell nutty and turn a lighter brown.
If you are making Pozole Rojo, transfer the toasted chillies to a bowl and pour over freshly boiled water to cover them. Place a small saucer on top of the chillies to keep them submerged. Leave to soak for around 15 minutes, then puree with their soaking liquid. When the maize kernels are soft, sieve the chilli puree straight into the pan.
Remove all the pork from the meat pan and put to one side. Add the meat cooking broth to the maize and chilli pan with 2 tsps of salt, partially cover and simmer for another hour. Pull the meat from the shanks in shreds and remove the knuckles and bone from the shoulder and trotters, then chop the remaining meat into bite size pieces. Return all the meat to the simmering pan. Adjust seasoning and amount of water if required.
To make tostadas, brush tortillas with a little oil on each side (or leave plain), and place on a wire rack in an oven set to 160°C. Cook for about 15 minutes or until just golden and crisp.
Serve stew in large bowls and let your guests customise their pozole with the various garnishes. Cabbage usually goes on first, then a little onion, some radish slices, a sprinkle of Mexican oregano and some àrbol for mega heat and a squeeze of lime. Serve totopos on a side plate to nibble in between mouthfuls of broth.
Pozole with beans
Soak the beans and the pozole together overnight, drain and cook for 2-2.5 hours as in step 1 above, but adding the onion, bay leaves and peppercorns and an 1-2 extra litres of water. Omit the meat (and step 2 and 5) and continue with the recipe adding salt to taste only at the end.
Pozole Blanco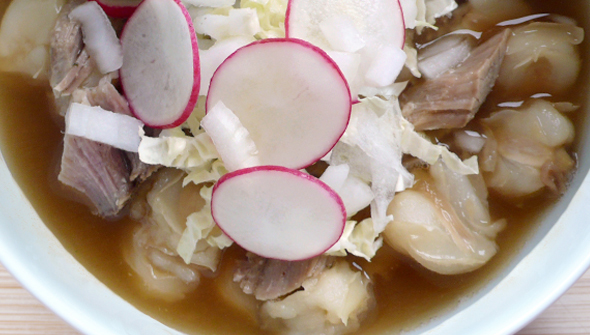 Pozole with beans